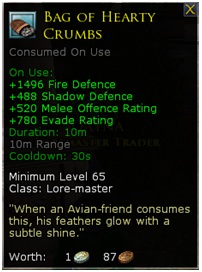 FluffyGuild has a nice and quick tutorial transmutation stone video up. Most GW2 current fans know about this but many newer fans that are coming late may need to catch up.
Please enjoy and GW2 Stratics want to thank FluffyGuild for having this video up.
Guild Wars 2 Transmutation Stone
[youtube id="y8yp7ZPk2Kk" width="600″ height="350″]
http://www.youtube.com/watch?v=y8yp7ZPk2Kk&list=UUwvHqCbTBEqKOtYOemcPdjw&index=2&feature=plcp
Published on Aug 16, 2012 by     FluffyGuild
Guild Wars 2 offers item transmutation so you can keep the look of the old item and take the stats of the new item.  You get transmutation stones via in game rewards like doing all map objectives or via the Gem Store.
The only rules are the items must be the same time.  You can't transmute the look of a greatsword into a one handed sword or medium armour into light armour.
It might be that you can only transmute high level items with transmutation stones purchased via the gem store – although there is no more specific details on this in the wiki.