"I have nothing more to give you than my heart"
EM Event held on February 18th @ 7PM PST (10PM Eastern), Pacific Shard
Tonight in the courtyard of Lord Blackthorne's Castle we once again encountered the mysterious Acolyte of Amor. Once we gathered before him the Acolyte called on us to participate in a sacred traditional game of the Immortals. Inside a dungeon, we would face the forces of Amor in a challenge to prove our diligence, unity and strength.
​
Once inside the dungeon, we had to defeat the creatures of Amor in order to advance because of guardians and obstacles blocking our path. The Voices of Amor had the appearance of a brightly glowing changeling. Accompanying the Voices of Amor were Spectral Images of Eros, the fallen deity Cupid, who had sacrificed himself to defeat his ancient enemy the Phantom of Hatred.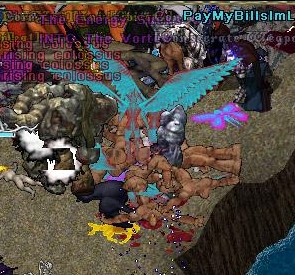 ​
We also encountered Ceryneian Hinds, the diminutive golden hinds proved to be a lethal and persistent foe. As we fought through the dungeon, the Keeper appeared and unleashed waves of potent magic upon us that had the power to slay all of us instantly. Despite having such incredible powers at his command, the Keeper allowed us to continue the sacred game before finally engaging us himself in a final contest of strength. Through our sheer numbers and teamwork we were able to overcome the Keeper.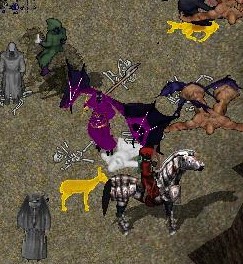 ​
At the end of the challenge we were taken by the Acolyte of Amor to the waterfall near the Shrine of Justice. The Acolyte praised our courage as he told us we were the first mortals to participate in this sacred tradition. Before leaving the realm of Britannia, the Acolyte said that he would return to us again during this season and reminded us to "love one another."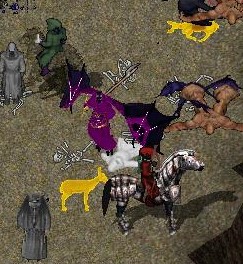 ​
Following the event, we gathered at the EM Event Hall. EM Ashmedai confirmed that this was the second Valentine's Day event in a series. Two Souls With But A Single Thought, Two Hearts That Beat As One was the first event.
Much to the dismay of some of the event participants, there was no drop for this evening's event. The next event, The King's Meeting, will be held on 02/25/2016 at 7 PM PST or 10PM EST. For more information visit Pacific | Being served by EM Ashmedai
Thankye EM Ashmedai for an interesting story, fantastic creatures, and fun!