On April 27, 2016, The Village of Stormguard held a festival. Stormguard is located north of Minoc and contains four public buildings. It is Baja's newest township and is ran by Chareos, who is also Governor of Minoc.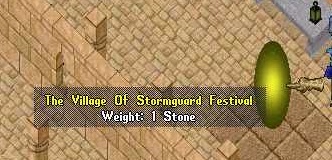 ​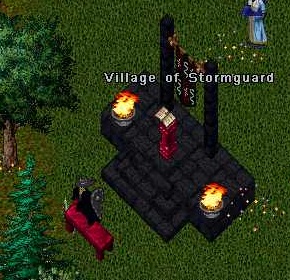 ​

The night's events started with a trivia contest at the township banner.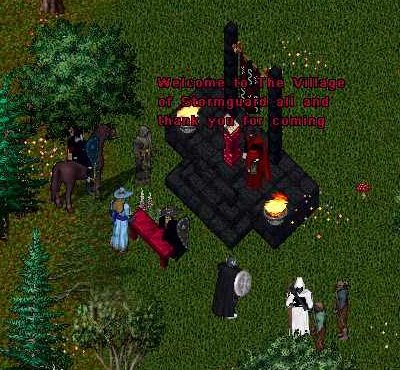 ​
It was a competitive contest which resulted in a tie for second and several tie breaking questions. The prizes and winners were:
1st place – Server birth books – Oro d'lci
2nd place – Academic books – WildStar
3rd place – 1 million gold – Dreamariz Drunab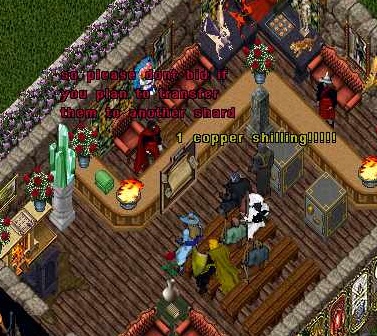 ​

The next event was a live auction held at the Auction House.
Governor Chareos – "The purpose of this is not for me to get rich but for you to obtain items you want or need. That being said I am going to start these items at a lower then market price, so please don't bid if you plan to transfer them to another shard."
The items auctioned off were:
Dragon Turtle Fountain
Black Tiger Rug
Deed for a Lighthouse (5th year veteran reward)
A Brittanian Ship
Ridable Polar Bear Statuette (9th year veteran reward)
Armor of Fortune
Soldier's Medal
A full set of Eodon Stealables
A set of coins (a cooper shilling, a gold sovereign, and a silver crown)
A pick of one 8th year veteran reward
​

We then proceeded to the tower for the archery contest. Each contestant was allowed to fire three arrows into the archery butte. This event ended up in a tie for first place between Oro d'lci and Joan of Arc with a score of 110. It took several tie breaking rounds of one shot each to determine a winner.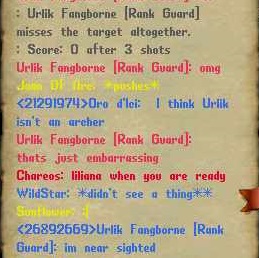 ​

The prizes and winners were:
1st place – +5 Tactics Scroll of Transcendence – Oro d'lci 110 with a 50 on the final tie breaking round
2nd place – +5 Scroll of Valiant Commendation – Joan of Arc 110 with a 10 on the final tie breaking round
3rd place – 1 Million gold – Sunflower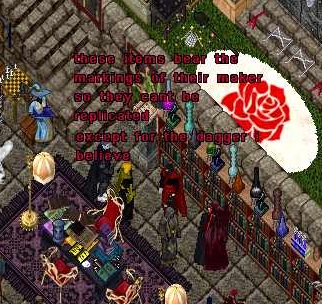 ​
The next event was a scavenger hunt in the Stormguard Castle. We were given the clues to the location of three items in the castle. They were located in backpacks on the floor. We were looking for a dagger, a pair of bone gloves, and a pair of studded leggings with maker marks. The winner was the first person to bring all three items to Chareos in the library.
1st clue – This bag is under a large tree that came from a small seed
2nd clue – Dorothy's friend with no brain
3rd clue – Where you go when you are sick
The prize and winners were:
1st place – Set of Aloron's Armor (Female) – Urlik Fangborne [Rank Guard]
2nd place – WildStar
3rd place – Oro d'lci, Zurik, & Dreamariz Drunab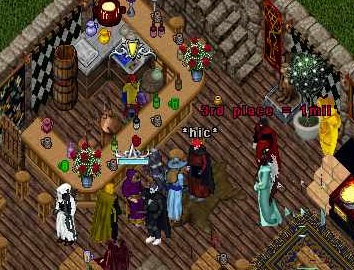 ​

The last event of the evening was Drunk Darts. You were allowed three throws at the mongbat dartboard and had to be drunk at the time you threw. The gargoyles present were unable to throw so others volunteered to be stands in for them.
The prizes and winners were:
1st place – 10 Million gold – Liliana
2nd place – 4 Million gold – Oro d'lci
3rd place – 1 Million gold – Sunflower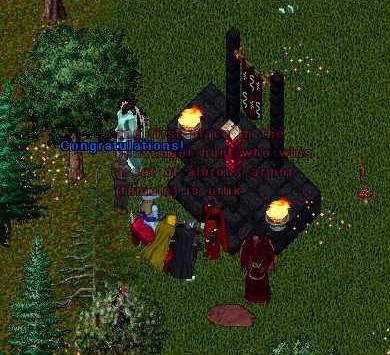 ​

The night's event ended at the township banner where prizes were distributed to the winners of the events. Those that had won auctions were instructed to meet Governor Chareos at the Auction House to pay for and receive their items.
Everyone had a great time.
Thank you Stormguard for a great night.
WildStar
Baja Shard Reporter