Carefully I read the message from Harriet. It was a request to meet with Jess the Cobbler at the hall. The hall quickly filled with others who had received the message.
"Hello, citizens." Jess greeted us from the front. "Lady Harriet has agreed to let me call upon you."
Elizabeth smiled at her. " Hello." she and Cathy Earnshaw replied.
"Hi," Dellmagic and Skadi added together.
"Hail," said Demoss.
"We got you cookies!" Ronan pointed to the cookies on the table.
"Oh, are these cookies for me?" Jess picked one up
"Yep," Ronan grinned.
Jess quickly pick up one to nibble on. "Thank you so much."
"Hello, how can we help you, Jess? "I asked.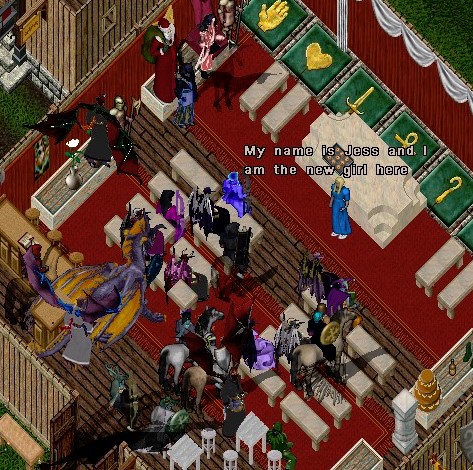 ​
Jess the Cobbler finished her cookie. " I am a cobbler by trade and I make the best footwear ever." She paused to pick up another cookie. "Friends, I have something to discuss. There are some titans in Ilshenar that have been trying to harness the power of the sun."
"Oooh, that isn't good." I shook my head. "Do you know where they are?"
Demoss frowned. "How would a cobbler know this?"
Jess the Cobbler continued. " Of course should this be possible it would be of some use to mages as well as imbuers and others."
I nodded, thinking of the powerful weapons that could be made.
"My Idea would be to try to imbue the power of the sun into my footwear. Jess explained. "They would glow with the power of the sun and the need for the night sight spell would be altered."
"Hot feets?" Skeptamystic suggested.
Demoss laughed.
"Not my moonstone sandals," Jess said noticing me studying her sandals. " Of course the moon is much tamer than the sun.
"True. "I agreed. If the craftsmanship of the sun sandals were anything like her moonstone ones. I needed a pair.
" Not only do these titans have no hecking idea what they are doing. But they are drawing tainted fire beast and spreading blazes. " Jess the cobbler shivered.
​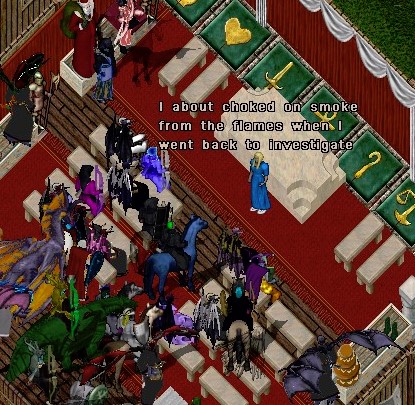 ​
"They must be stopped. " I commented.
she nodded at me. "It is a big enough problem that I came to Lady Harriet who agreed I should address you."
"We gotta stop this right now!" Shouted Dr. Cry. "Let's do this!"
"I agree with Dr. Cry," I said.
"I am highly skilled in stealth, my father was a ninja from Tokuno. But the heat from the fire was just too much for me." Jess explained. "So that is why I need your help."
"We are your sword. "Sphinkter assured her.
"I'm prepared to fight" Dr. Cry declared forcefully. "I will do whatever it takes to fight.
​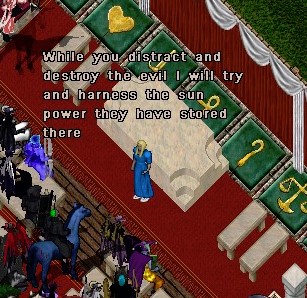 ​
"If successful I will share some of my footwear with you," Jess the Cobbler said.
Cathy Earnshaw and l smiled. "That will make my cobbler very happy.
"And if I should perish please take careful care of these sandals they are my pride and joy." Jess inplored us.
"I will Jess." Dr. Cry added. "I need some sun sandals."
"I can gate nearby the area in Ilshenar." Jess told us. "But going through the gate is not going to be safe. "
Sphinkter stood ready to go. " We are brave."
Outside, Jess the Cobbler opened a gate. "Please be aware I don't know what creatures will be on the other side of my gate. She bowed slightly to us. "Let us go investigate. Be careful of the fire and smoke!"
We followed her through the gate into death. On the other side, sun elementals waited for us as if warned.
​
​
​
Regrouping, Jess pointed to the cave and shouted. "Through the cave my friends."
Slowly we fought our way through the cave. Indeed the titans had summoned fire beast.
​
"we are inside the cave, well ettin camp hangout' Epona shouted to Jess."
"Yep and they have been busy building," I noted the strange structure.
"It seems these structures are pulling in the sun tainted creatures," Jess said.
I nodded. "That is what I noticed."
As Jess moved closer to the structure. More creatures appeared.
​
​
​
​
​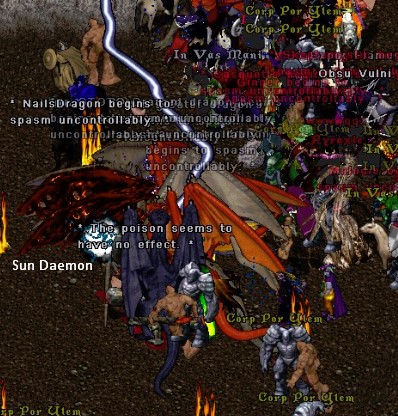 ​
​
​
Stinky Pinky III was first to spot Icarus. "Ooo NICE Icarus,"​
"Icarus flew too close to the sun!" Jess shouted back. "Brave warrior friends keep the protection please."
As we fought Jess called to us. "Friends I need more time please continue to fight thank you for your protection! Perhaps I can imbue the leather as the elementals get pulled down to the building ."
"Boy, you weren't joking about deadly smoke!" I shouted to Jess after returning from a healer.
"Smoke got me naked!" Skeptamystic yelled in shock. Several people healed him while laughing.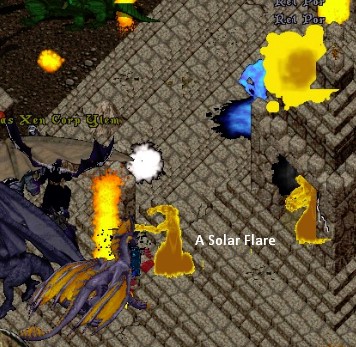 ​
​
Then it appeared…pure sunlight splendor. The strongest creature we had faced. Its heat burning and killing the best of us.​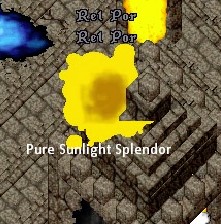 ​
As it fell we hear Jess shout in triumph, "I'VE GOT IT, FRIENDS! PURE SUNLIGHT! I HAVE THE POWER OF THE SUN!!! Then she looked around "WOW! What a battle! What a night.
Most of us were too tired to reply. We quickly returned to the hall to see her creations.
"It seems the sandals do not glow as I hoped they would," she said. "But night sight magic is upon them."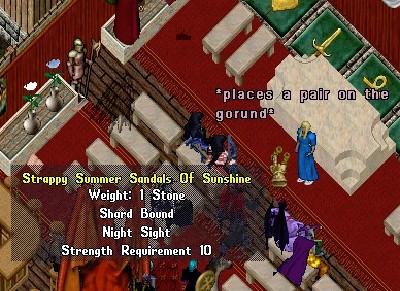 ​
"Very nice," Akazu said admiring them. "Love the ssss sound."
Looking at them again, "But I had hoped they would glow with the sun's radiant light."
"That might have been dangerous though." I moved back a bit not trusting the magic.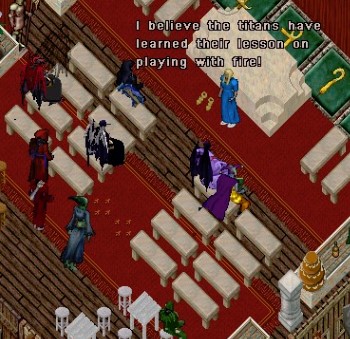 ​
"Thank you all for your assistance with this experiment," Jess said.
"Glad we were able to help you," I told her.
"Even playing field," Akazu added.
Jess nodded. "Thank you all but I must go make my report to our dear Lady Harriet. I am sorry I cannot stay."
"Bye," Akazu told her. "Have a good night."
"Night," Elizabeth smiled.
"Travel safely friends. Lady Harriet will meet you here next week." Jess the Cobbler bowed, her adventure coming to an end.
August's Drop: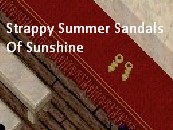 ​