WASHINGTON, DC–Stratics, the Internet's oldest MMO fansite, celebrated 16 years of continuous fansite support on Sunday by hosting a series of interviews and giveaways. Tim "Dariuas" Slager, Stratics' Community Director, led the event, which was broadcast live to Stratics' YouTube, Twitch, and Google Plus channels.
EVE Online
[NoImgStyle]
[/NoImgStyle]Following introductory remarks by Stratics' President & CEO, Taylor V. Smith, the team was joined by John "Loktofeit" Albano, a former Stratics volunteer and current copywriter/editor for CCP Games. Loktofeit, answering questions from EVE Stratics Managing Editor Vince, described his time as a Stratics volunteer, his transition into the gaming industry, and some upcoming content in EVE Online. Throughout the interview, Loktofeit affirmed the value of his time at Stratics and lauded its impact on his current role.
The Elder Scrolls Online
[NoImgStyle]
[/NoImgStyle]Dariuas then interviewed ZeniMax's Creative Director, Paul Sage, and Community Manager, Jessica Folsom, about ZeniMax's highly anticipated title, The Elder Scrolls Online. Paul and Jessica spent much of the interview discussing the important relationship between game publishers and game communities. Paul called communities "critical" to the longevity of a title, noting that fansites facilitate the growth of "micro-communities" that allow players to build deeper relationships, which enriches interest and culture within the game.
WildStar Online
[NoImgStyle]
[/NoImgStyle]After a brief intermission for giveaways, Dariuas was joined by Carbine's Jen Gordy, a former Stratics volunteer and current Lead PvP Designer for WildStar Online, to discuss her history at Stratics and career in the industry. During the interview, Jen provided some insights into WildStar Online and joked that, although she could hold her own in battlefield settings, she was frequently bested by beta players in arena matches. When asked what she would most like to change about the gaming industry, Jen indicated that she would love to see more opportunities for internships at game studios, especially in the quality assurance skill community.
Stratics Friends and Alumni
[NoImgStyle]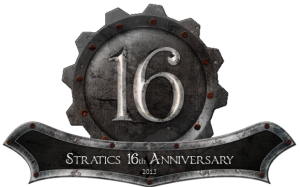 [/NoImgStyle]Throughout the day, former staff members and long-time friends of the network joined the hangout to reconnect, share memories, and congratulate Stratics on its continued longevity. Ryan "Den Dragon" Findley, who founded Stratics in 1997, applauded Stratics' anticipated return to the values that made the network special from the beginning: operating not as a business, but as a community of people united by a shared passion.
Shroud of the Avatar
[NoImgStyle]
[/NoImgStyle]During perhaps the most scholastic discussion of the day, Stratics' Chief of Staff, El of LA, interviewed Portalarium's Creative Director, Richard Garriott; Executive Producer, Starr Long; and Community Manager, Gina Dionne, on the anthropology of gaming. El, Richard, Starr, and Gina spoke extensively about the organic growth of online gaming communities, including unforeseen social developments, such as an in-game prostitution ring, the abuse of in-game ecosystems, and roving bands of murderous carpenters. Later, Shroud of the Avatar Stratics Associate Editor BenK joined the interview. BenK asked Richard, Starr, and Gina about the origins of Portalarium, the experience of crowd funding, and future plans for Portalarium's Shroud of the Avatar.
Ultima Online
[NoImgStyle]
[/NoImgStyle]Finally, returning to its roots, Stratics concluded the evening by interviewing Bonnie "Mesanna" Armstrong, Producer of Ultima Online. Petra Fyde, UO Stratics Managing Editor, and Lady Tia, UO Stratics Community Coordinator, asked Bonnie to recall her history with UO as both a player and a developer. Bonnie outlined her ascension from a quality assurance contractor to producer of the title. Moreover, she discussed Stratics' lengthy support of UO, describing the supportive and symbiotic relationship as "kind of like a marriage." At the close of the interview, when asked to name one player that she was particularly fond of killing, the Dark Lady of UO noted that it was especially fun to kill an unnamed panty thief on Europa. (You know who you are).
Giveaways
[NoImgStyle]
[/NoImgStyle]Stratics and its guests provided a number of giveaway prizes throughout the day. Viewers were given the chance to win both digital and physical merchandise from each of the titles represented, including EVE Online, The Elder Scrolls Online, WildStar Online, Shroud of the Avatar, and Ultima Online. Additionally, Stratics awarded certain chat participants, Twitter followers, and Stratics Forum users with a wide array of prizes, including select Steam games, cog-style earrings, and an Amazon gift certificate. Lastly, the grand prize winner of the "Unshroud Your Avatar" cosplay contest was awarded a brand new Krakken headset.
YouTube Playlist Featuring Anniversary Highlights
Stratics has created a YouTube playlist featuring highlights from the celebration, including a memory reel, made by UO Stratics News Administrator Watchertoo; a word from Stratics' founder, Den Dragon, regarding the origins of Stratics; and address from Taylor on his discovery and acquisition of Stratics, as well as future plans for network advancement; and each of the interviews noted above.  You may watch this playlist below or on Stratics' YouTube channel: YouTube.com/TheStraticsNetwork.
Thank You!
Stratics would like to extend a special thank-you to all of its honored guests: Loktofeit, Paul Sage, Jessica Folsom, Jen Gory, Richard Garriott, Starr Long, Gina Dionne, and Bonnie Armstrong. Thank you, too, to all of our friends and alumni who participated in this amazing celebration.
In addition to the staff members named above, Stratics also owes a huge debt of gratitude to the event producer, Airmid; the event community team, Cirno, Pinnique, and Gaarawarr; Stratics' Editor-in-Chief, Kirthag, who led the website redesign and content migration; Stratics' Technical Director and Technical Administrator, Shamus Turlough and MadMartyr; Stratics' Forum Administrators and Moderators, who worked to approve contest entries; and the entire staff family, who hurled encouragement toward the event team throughout the day. Thank you, Stratics staff, for your passionate work and dedicated to the Stratics community over the past 16 years.