Recently I had the fortune to check out some of the new Mage talents and abilities on the Warlords of Draenor Alpha, and whilst not actively playing a mage as a progressional character, I did find the changes to be obvious from the outset, regardless of my play style and previously stated distance from the class itself. Filling my screen with fire and ice is something I will never complain about, so let the lag-inducing experience begin!
The graphical fidelity of World of Warcraft has been somewhat of a backseat in recent years some could argue, with many graphical changes in recent expansions being more akin to literal patches applied on an old leather coat, rather than a new coat entirely. This is not a bad thing, as much of what makes that coat unique and interesting is shared with World of Warcraft for me personally. With many changes, including those to the actual races and characters we play comes wonderful revamps and opportunities to implement visually stunning effects for various abilities. Mages are considerably livelier than most classes with their abilities, often filling the screen with fire or frost based explosions, so it makes sense to up the graphical quality of those effects primarily as to not make other changes look alien in a relatively old game. The character models themselves are owed this attention to detail, especially after how ridiculously good they look in comparison to the older models, on that im sure we can all agree.
The first Mage ability I looked at was called Supernova; an interesting talented replacement for the spell Frost Nova. Specifically for mages of an Arcane disposition, Supernova allows the caster to place a pulse of energy around either another player or the enemy, which then pulses for 112% of the casters spell power as arcane damage to all enemies within 8 yards of the target. This ability also causes the target to be knocked upwards, if the target is an enemy that you originally placed the ability on, then that enemy will take 100% extra damage whilst the effect is in place. The ability itself seems rather useful and adds extra utility to the level 75 talent choice. Im not a mage on the live game servers, as I have mentioned before, however I would feel that this seems to be a rather exciting and powerful choice that will likely be extremely useful in both PvP and the PvE situations with a large amount of additional creatures. Graphically the spell does exactly what you would expect, as it says on the tin. A large purple explosion of energy protrudes from the targets I placed it on, circling out in waves of pink tipped fire. Nothing short of extraordinary and certainly a pleasant selection of colours from what I would say usually remains, in my opinion very samey for many mage abilities.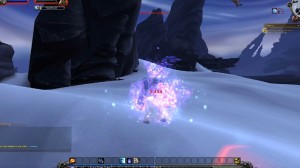 Secondly I looked at 'Evanesce', despite my first time reading the ability as 'Evanescence' and unfortunately expecting Amy Lee to pop out and serenade me to sleep; I was still pleasantly surprised when presented with another visually appealing, if not slightly 'over-pink' palette. I shrugged this off as possibly a theme suited to mages and read that it replaces 'Ice Block', immunity ability, which is extremely useful in PvE and PvP. What this talent choice (available at level 15 on the first tier of talents) does then is actually replace it with a shorter duration immunity lasting 3 seconds, only this allows the mage to actually continue moving AND can be used as an immunity WHILST casting other spells. Situational events where a full duration immunity do exist, however I still feel that the majority of the time, at least in PvE the choice may remain fundamentally towards Ice Block, rather than a heavily time sensitive replacement.
Thirdly, and lastly I got my hands on the level 75 talent choice, this time for Frost Mages only. Again replacing Frost Nova, this ability, dubbed 'Ice Nova' places a whirl of ice and snow around the targeted friendly / non friendly player or enemy monster and deals 95% of the mages spell power as frost damage, again if the primary target is an enemy, then that enemy takes 100% additional damage whilst the effect is in place. As stated before, I know little to practically nothing about mages anymore; however it seems like a particularly strong choice for the level 75 tier talent and actually looks the best out of the spell effects ive seen thus far. Unfortunately the place I tested this ability out in the video you will see below was predominantly the same colours of the actual spell, i.e. ice, however rest assured the visual fidelity and quality of the effect is sublime.
As much as the abilities which I have talked about today are interesting, it would seem there are even more mage abilities available only to level 100 mages which I hear are sublime and put these three to shame. I wait with baited breath then to be able to test out those potentially lag-inducing morsels of entertainment. I honestly want to see Blizzard address more spells for more classes, especially other magic users, as I find that if you increase quality in one place and not all, sometimes you can end up with obvious old versus new side by side comparisons. Warlocks are set to possibly get the same treatment, and my mind can only dream of what explosive options Blizz has up their sleeves.
Until then enjoy the various other changes to World of Warcraft, that honestly are making Warlords of Draenor look to be the most promising advancement the game has ever undertaken, a worthwhile leap forward in a sea of competitors, which are honestly put to shame by this aging, yet beautifully designed and evolving videogame. We intend to cover as much as possible over here on WoW.Stratics and personally in video form over on www.youtube.com/acegamestv.
If you have enjoyed my article, please feel free to continue the discussion over on our forums or leave a comment below. What are your favourite changes so far? What do you want to see from our Alpha coverage? Let us know!