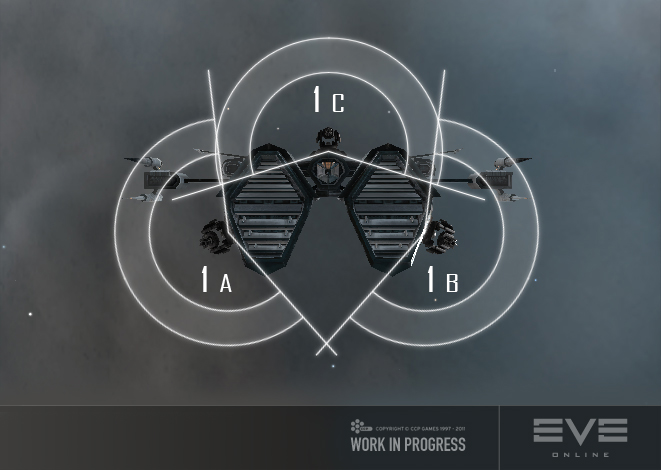 "The Rifter is a very powerful combat frigate and can easily tackle the best frigates out there. It has gone through many radical design phases since its inauguration during the Minmatar Rebellion. The Rifter has a wide variety of offensive capabilities, making it an unpredictable and deadly adversary."
The description of the Rifter is actually very understated.  Simply put, it is the best Tier 1 combat Frigate in the game and few would debate this.  It is inheritly fast, it is versatile, and has solid slot arrangement that gives you what you need for starting combat.  For those interested in PVP, the Rifter is often the very first step into that world.
Flying a Rifter first depends on you fitting it out correctly, so you must first understand what tasks a Rifter can do, and more importantly what it can't do.  It also important to understand that how a ship is fitted in PVE, isn't the same way a ship should be fit for PVP.
This is not a guide that explains the differences between PVP and PVE fits, merely how the Rifter works in different settings.
Solo PVP
The Rifter, when fitted and flown well can defeat any other Tier 1 frigate in EVE Online so its an excellent place to do some wetwork just a few days into your career. A hull cost ~250k ISK and if you want to increase your skills flying it, get a stack of 50 or so to get you started.
For frigate targets, you'll be taking some damage since their guns/weapons are intended for frigate sized targets. Avoid targets that are intended for frigate killing, like drone cruisers and short range specialists (like blaster fit ships) untill you feel comfortable you can take them on (for example, after you've killed the drones). Be aware though, they do alot more damage once youre in point/web/scram range since that is also the optimal range of the blaster turrets – as well as being in range of a NOS or Neut (last two being capacitor warfare module). All very deadly modules that can easily break Rifters into many many pieces.
Take advantage of the Minmatar hull design that allows you to dictate range. Its ok to run away to fight another day.
Keep in mind; If your enemy is in point/web range, so are you. Scrams disables your microwarpdrive (this is the reason some ships are fitted with both a Microwarpdrive and an Afterburner also known as "dual prop").
For bigger targets that aren't really built for frigate killing, you can engage these spiralling in to get under their guns (close enough and fast enough and the turrets won't be able to track you anymore and you'll avoid damage altogether). Engage orbit at minimum distance and let your guns do the talking.
Due to the nature of PVP fits you really only need to stay focused on the reality that most PVP fits include a buffer tank rather than self repair modules. Its only a matter of time before the hitpoints reach zero. The exception to the rule are ships that has a passive shield recharge fit and can replace the lost hitpoints faster than you can chew them off. The Drake would be a potential contender for this category. If you come across one, its possibly a PVE fit, and for PVE we're talking about mission specific shield hardeners. That can be a case of finding the right type of Ammo to pick in his resistance hole untill he starts to bleed. For that, it can be usefull to know which Rats/NPC's roams the current star system so you'll know what kind of damage they apply.
[Rifter, Solo PVP]
Capacitor Power Relay II
200mm Reinforced Steel Plates II
Small Armor Repairer II
Warp Disruptor II
Cap Recharger II
1MN Microwarpdrive I
150mm Light AutoCannon I, EMP S
150mm Light AutoCannon I, EMP S
150mm Light AutoCannon I, EMP S
Rocket Launcher II, Mjolnir Rocket
[empty rig slot]
[empty rig slot]
[empty rig slot]
Plenty of room for improvements and not that tight a fit means you can experiment and diversify your fits.
[Rifter, PvP T2 AC Eve University Fit]
150mm Light AutoCannon II
150mm Light AutoCannon II
150mm Light AutoCannon II
1MN Afterburner II
Medium Subordinate Screen Stabilizer I
Fleeting Warp Disruptor I
Gyrostabilizer II
Damage Control II
Nanofiber Internal Structure II
Small Core Defense Field Extender I
Small Core Defense Field Extender I
Small Core Defense Field Extender I
Fleet PVP
In this role, you'll usually be flying the Rifter as a tackler (intended to keep your opponents from escaping combat). As a Tackler your primary objective isn't as such to kill the target, but rather to avoid death untill your main fleet damage dealing ships can focus fire on the target. This means you'll usually fit guns that can fend off drones or other frigates, so a fast tracking turret would be ideal. Similarly, the launcher hardpoints can be used for defender missiles – again – simply to keep yourself alive for longer rather than damage application. Finally a prop module is vital since it allows you to keep yourself from taking excessive damage from incoming turret fire but also because in null-sec, you'll often encounter warp disruptor bubbles that makes it hard for any slowboating ship to survive a gatecamp.
Otherwise its much the same principles that apply in terms of engaging and/or disengaging the target. Larger targets with big guns are easier tackled once you get "under the guns". Incidently, you'll propably find that its actually safer to tackle Battleships rather than some cruisers, simply because they usually also have other priorities (like targetting the ships that are either killing them or keeping your own fleet alive). Similarly, the support vessels in your own fleet may have higher priority targets, depending on incoming fire and won't allways prioritize repairing a small Rifter. In these cases, it may be a viable alternative to the buffer tank, to actually fit a self repair module. You'll need capacitor to activate it though, so train up those support skills.
For tackling, of course you'll use at minimum – a long point (warp disruptor), web and possibly a scram for some faster moving targets where you'll want to disengage their microwarpdrive to prevent them from escaping effective firing range of your fleet.
[Rifter, Fleet PVP]
Capacitor Power Relay II
Nanofiber Internal Structure II
Nanofiber Internal Structure II
Warp Disruptor II
Stasis Webifier II
1MN Microwarpdrive I
200mm AutoCannon II, EMP S
200mm AutoCannon II, EMP S
200mm AutoCannon II, EMP S
Rocket Launcher II, Mjolnir Rocket
[empty rig slot]
[empty rig slot]
[empty rig slot]
Since the fit is not that tight, you can coordinate with others in the fleet to fit webs so you can change to either long point or scrams. Its really up to you.
PVE
For PVE you'll simply fit a mission specific hardener, afterburner, medium shield extender and toss in shield power relays to increase shield recharge rate. Remember guns, and 3 identical types of that. Don't use 3 different kinds that you just happened to have laying around. This allows you to group the weapons and swap ammo on the fly, more or less – rather than having 3 different optimals on your turrets with 3 differing types of ammo to go along with it. It will cause you to micromanage your turrets excessively. The AB is to allow yourself to avoid too much incoming turret fire by orbiting something in your mission pocket (like the first wreck you create) untill you get familiar with the concept of "keeping a high transversal" to avoid incoming turret fire.
[Rifter, PVE Shield brawler]
Damage Control II
Beta Reactor Control: Shield Power Relay I
Beta Reactor Control: Shield Power Relay I
1MN Afterburner II
Medium Shield Extender II
Stasis Webifier II
200mm AutoCannon II, EMP S
200mm AutoCannon II, EMP S
200mm AutoCannon II, EMP S
Rocket Launcher II, Mjolnir Rocket
Small Ancillary Current Router I
Small Core Defense Field Purger I
Small Processor Overclocking Unit I
Due to the fit being exceptionally tight, you will need to train up those support skills to V. In the interrim, you can use named versions to cut down on CPU/Powergrid use for the specific modules. Modules and rigs that affect recharge rate can be exchanged for versions that increase mission specific resists.
[Rifter, PvE Basic Skills Rifter Eve University fit]
Shield Power Relay I
Shield Power Relay I
Shield Power Relay I
Experimental 1MN Afterburner I
Medium Shield Extender I
Explosive Deflection Amplifier I
125mm Gatling AutoCannon I, EMP S
125mm Gatling AutoCannon I, EMP S
125mm Gatling AutoCannon I, EMP S
[empty high slot]
Updated 7SEP13