Whispers in the great forums of the Battlenet echoed of some little game in closed beta that would satisfy the trading card game geeks in us as well as the battle hardened orcs from Azeroth. The competitiveness is highly evident. You play against other people, not just a computer's AI. You can craft new cards, customize your decks, earn rewards, even buy some advanced perks! I'm getting ahead of myself though, so let's step back up a bit before I get too far into Blizzard's new game offering, HearthStone.
In the early 1990's just about every comic convention had several booths set up with one form or another of Trading Card Games (TCGs). From Magic: The Gathering (MTG) to  Pokémon  and even some versions for fantasy sports and super heroes; there wasn't a place where some teens,  tweeners and thirty-somethings were throwing down a deck, tapping cards, and playing for each others' special collectible cards. Some of these cards are not cheap! There is a very rare card from Magic: The Gathering called the Black Lotus (pictured at right). It is so rare and desirable, even today you will find it on eBay being auctioned for tens of thousands of dollars! TCGs are so popular, just get your hands on a print sheet for certain titles and you will be able to generate the funds to make a down payment on a decent sized home in Pennsylvania!
The staff at Blizzard, especially some of the old-timers, played Magic: The Gathering during their breaks from coding the games millions have grown to love. They remembered the fun they had flipping cards and soon the very core of Blizzard decided to make a small, robust – and "epic" – game that helps to feed the desire to play cards yet not get sucked in too deep with the competition. Thus HearthStone was born as a digital Collectible Card Game (CCG); there is no trading of the cards between players. As with every digitized game in production, eventually you need to test it with ever larger groups of people. As a World of Warcraft player, I saw the announcement for testers and added my account for the beta. I didn't actually expect to be invited, particularly to the closed beta. Yet the invite was slipped into my email account one dark, shadowy night. Yes, I was surprised when I saw it, so of course I signed up!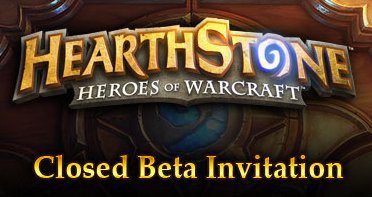 To be quite honest, I never got into the entire MTG culture. Sure, I could play the game, even won some pretty decent cards from friends (sadly,not the Black Lotus). I did manage get my hands on some production sheets for Pokémon cards. Kept two of the best and framed them for my sons when they were little. No idea what they could be worth today, but you never know. I bought cards, built deck, but just didn't get that much into the entire process. I still have some MTG cards floating around the house now. So it is a bit ironic; here I am getting ready to venture into a virtual version of a card game built up and themed after the Warcraft games. What am I getting myself into?
After verifying my closed beta access in the new Battlenet Desktop Application, I started the download. Knowing the intensity of graphics and elements that Blizzard is (in)famous for, I prepared to go watch some television when I noticed just how fast the download and patch bar was moving! I had read the hype that the developers were creating a small and portable game, but this was awesomely minuscule compared to their normal fare. So a bit piqued, I ignored the nightly news blaring from the living room TV and simply waited the entire 5 minutes it took to download and install! WOW!
I did have some issues authenticating into the game itself (and Blizzard people are well aware of this issue). After several attempts I did make it to the start screen – and my fun night began! Most evident is this kind of old-school feel to the graphics that tugged at my deepest gaming memories. I shrugged it off and continued setting up which didn't take too long as the options are very minimal:
Sound – volume is set to be rather high (watch the credits and you'll see why), so had to turn that down for both the master and music volumes
Resolution – I got a nice widescreen for my gaming rig, so that I had to tweak
Quality – no idea how much bandwidth it will take, so kept it at medium. Looks good!
Fullscreen – to check or not to check that little check box!
And really, that's it.
I started looking around at the graphics, the details, and I am really impressed. Indeed, the flavor and feel is just right for my senses and degrading vision, but is active and in depth enough to keep even the shortest attention span intrigued. The background music is perfectly suited for a medieval tavern and really is quite relaxing. Oh, and there is chatter. Background chatter like you hear in a busy bar or gaming hall. The din actually cheers and boos sometimes depending on the cards and action on the display screen! How's that for immersion? There's a bit of a steampunk vibe in places which I like. It is done with class and taste that doesn't make you feel as if you're about to take off in Captain Nemo's submarine.
A few things I noticed are the easter eggs, and they got me giggling like a little girl most of the time. I almost fell of my chair when I heard the classic, "Job's done!" from the Warcraft game of yore! Really, I squealed with jubilation and glee! Yes, there is a bit of the old in this new game! If I hear, "Zug, zugg!" I think I'll die! I still have my very old Warcraft game that I used to play back in the 1990's. I'm feeling nostalgic now and will most likely load it up. I did stream my first HearthStone experiences, and have some excerpts below along with a promotional video from the Blizzard team.
There really is a lot that makes your first few sessions into this game a bit on the overloaded side. Items to click and poke at with your cursor. Menus to navigate, and cards to filter through. Thankfully, the Blizzard team had the foresight to presort the cards on pages and by class, otherwise the sheer volume (which isn't that much in the beta actually) would be overwhelming and too much work to deal with. I want to pit my skills against other people, not organize cards all night! Now that I think about it, that is really what turned me off from MTG and similar games of the genre – too much to keep track of and organize – too much like work!
Once you get comfortable with the features, and know what combinations work well against the different characters and other cards, you'll get hooked by the competition aspect of this game. And the Blizzard team knows you will. They've given players the ability to create new cards, buy more powerful cards with gold earned through challenges and quests – or real money. Yes folks, here's the money making part. The game itself is mostly likely going to be Free-to-Play and wind up on your iPads and Android tablets where you can Pay-to-Win on the fly. I did test this feature and noticed some things I wasn't too happy with – so posted them on Blizzard's beta forums. Due to security concerns, I won't harp about them here; hopefully its just me being paranoid. Otherwise, I've not been able to crash the game, barge into features I'm not paying for, or crack anything that I shouldn't. As a programmer of sorts, I'm a little savvy to some things the average users isn't – and honestly this game is so simple, I've not been able to brak it! It is a very lightweight game on the PC and does make me think this is more intended for tablets and mobile devices. It sure is small enough (in data size) for it!
I expect there to be competitions popping up for this game, even tournaments, leagues and more – both fan based and official. As a matter of fact, Blizzard did make an announcement about some members of the Hearthstone community attending BlizzCon 2013 for an exhibition tournament! This is going on November 8 & 9 (next month). That's pretty cool!
I actually streamed my beta playing which appeared live on the Stratics Live Streaming section of the forums. I did take out a couple of highlights – don't want to bore anyone with 3 hours of me giggling when I win and cursing when I lose. The action is rather fast paced; rounds are timed and if a card isn't played in the time allowed – *buzz!* NEXT! You're welcome to watch the videos on my Twitch Channel. I've also got one of the behind the scenes videos from Blizzard posted below.  The game is expected to be released in Windows, OSX and iOS for the iPad possibly later this year or early next. Check out the official site for more up to date news – and I hope I get to toss cards with some of you soon!
[youtube JdLSNKhJO1g]
[youtube e3lyiCEDdCc]
[youtube vF_PdZybRJE]