[NoImgStyle]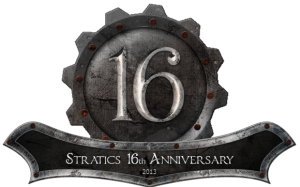 [/NoImgStyle]Stratics will celebrate its 16th anniversary on Sunday, October 20, by hosting a series of interviews with some of the gaming industry's most influential figures. In keeping with the theme of the celebration, "What's Old is New Again," Stratics' guests will include individuals whose historical contributions uniquely shaped the modern MMORPG landscape. The event will also feature giveaways and interviews with some of Stratics' former and current team members. Moreover, Stratics will unveil the newly-redesigned Stratics.com and announce important changes to its direction and organization, to include paid opportunities for all content contributors. A brief schedule of events is as follows:
2:00 PM EST – Welcome & Introductions
2:30 PM EST – John "Loktofeit" Albano, "EVE Online"
3:00 PM EST – Paul Sage & Jessica Folsom, "The Elder Scrolls Online"
3:30 PM EST – Contests & Giveaways
3:45 PM EST – Gina Dionne & Jessica Folsom, "Importance of Gaming Communities"
4:00 PM EST – Jen Gordy, "WildStar Online"
4:30 PM EST – Stratics Alumni Hangout
4:45 PM EST – Contests & Giveaways
5:00 PM EST – Richard Garriott & Starr Long, "Anthropology of Gaming; Shroud of the Avatar"
6:00 PM EST – Bonnie Armstrong, "Ultima Online"
6:30 PM EST – Stratics Staff, Past and Present
7:00 PM EST – Final Giveaway
Join Us Live!
We will be broadcasting LIVE using Google Hangouts On Air! Join us and ask your questions on Stratics' Google+ page.
Not a Google user? The stream will also be available on Stratics' YouTube channel and Twitch.TV channel.
Prizes and Giveaways!
In honor of our 16th anniversary, we would like to gift YOU! Our small tokens of appreciation come with heartfelt gratitude at you joining in on our celebration.
Keep up with us via our social sites, Stratics Forums, and stream listed below for chances at the following prizes:
Selective Steam Games
Selective Origin Games
Amazon Gift Certificate
2 Adventurer Pledges and 1 Virtual Collector pledge from Shroud of the Avatar
The Elder Scrolls Online T-shirts
Stratics Pro membership
30 day game time for Ultima Online
16 Ultima Online 15th Anniversary Robes delivered in game (rules here)!
Cog style earrings and necklace specially made from one of our own staff, El of LA (rules here)!
Grand Prize Event: Unshroud Your Avatar!
Read the event rules and enter your submission on Stratics Forums!
One winner will receives ONE of his/her choice of the following: Razer Naga OR Krakken headset OR Deathstalker keyboard
Follow Us Everywhere