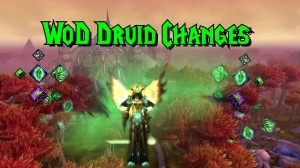 Recently with the patch 6.0 Warlords of Draenor Alpha patch notes, Blizzard gave us a substantial amount of information as to the progression of both talent additions and changes to each class. Add to this the recent data-mined information from both MMOChampion and WoWHead forums; we can begin to piece together the possible state of classes and their functionality within Warlords of Draenor and Patch 6.0.
Druids in particular have seen some interesting decisions and changes which ultimately change the play style and quality of life for each specialisation.
Let's take a short rundown of each specialisations changes and the talents within, looking primarily how they compare to current in game states and what exactly has changed. This article will however focus primarily on Healing changes and written from the perspective of a restoration druid player, so expect more lengthy details and comparisons in that area in particular.
Firstly let's look at removals from the class. As a whole, across the board many classes have had many of their abilities cut out or changed so that they better represent their specialisations. Mages for example have seen changes to fire spells being more used and some only accessible to fire mages for example, this is pretty much the same theme across the board for all the classes in the game. This homogenisation actually specialises the player to a specific role and allows for unique benefits for bringing certain specialisations, rather than just the highest dps role in any given situation.
The Removals.
First on the chopping room floor to go is Innervate; currently in game used as a near endless tap of mana usable every 3 minutes, replenishing mana equal to 50% of the casters spirit every 1 second over 10 seconds. This particular ability was a primary cool down which would be used half way / towards to the latter phases of fights and would allow you to spend much greater amounts of mana than you would without it, knowing that you have the cool down if it was needed. It also allowed for use on other players as a resource for their own mana restoration in various situational fights or if the other player needs a cool down more than you later into fights.
The removal of the spell in my opinion is more of a removal of a utility than anything else, yet the idea is that the mana restoration effects it would provide will now be hard wired into restoration druids instead of a cool down to restore the same amount which would now be static additional regen.
This, however well implemented does alter the play style of a restoration druid, as much of the usability of Innervate was dependant on the gear level of the character. Many of the gear improvements I acquired later into Mists of Pandaria allowed me to use my Innervate on other players in our raids due to my regen reaching the point where additional cooldowns were almost un-needed. However early into the expansion the cool down was used more and more frequently earlier in fights, so it will be interesting to see how Blizzard implements that missing regen early on in a tier when the player is less geared.
Other removals include; Enrage, Mangle-cat form, Swipe-Bear Form, and Symbiosis. The removal of spec specific mangle and Swipe is understandable and works very much as I previously mentioned with the Mage idea, however some changes actually added to all specs of the class. Shred for example is now available to all Druids. Symbiosis is actually a pleasant surprise, the whole idea that situational events would require certain specs of certain classes to then gain a weakened version of an extra ability such as tranquillity from a Shadow priest for example. This idea, although good on paper actually forced confusion and far too much meta gaming and objectivity within raids, with many of the potential benefits being too weak or simply negated as they were not widely understood due to the complexity of setting up what does what where and how useful it would be in a given situation.
Nourish is also getting removed, a small filler heal for restoration druids that would amplify in its potency if the target being healed had a heal over time on them already such as Rejuvenation, lifebloom, Regrowth or Wild growth. This spell soon became less useful as we progressed through the expansion in favour of only slightly more costing abilities would heal for more and even hit multiple targets, which ultimately makes the spell an extra button that we could do without. One further, yet expected removal is the passive 'Balance of Power' for Balance Druids, which if you never knew is the name of the skill that grants hit rating based on the amount of spirit you have from equipped items or status effects, this is ultimately due to hit rating being removed completely from the game within WoD.
Additional Changes to Existing Abilities / Spells
Many of the removals from the class are fundamentally to make way for the changes to other spells which help accommodate the class and rebalance it. One such change is to Cyclone, our Crowd Control ability, which presently cannot be cancelled by immunity effects such as a paladin bubble. This is changing in 6.0, with Cyclone finally being broken by Divine Shield, Ice Block and other immunity granting abilities. This change is long overdue, as it falls in line with other crowd control abilities within PvP that already break from such effects.
One of the most significant changes to restoration druids is one effecting the cast time of Wild Growth; a key healing ability that applies a heal over time to multiple targets and presently works as an instant cast spell. This is set to change with 6.0, with Wild growth now having a 1.5 second cast time. A change like this does alter the usability of such a spell, especially due to the fact that Wild Growth is currently an extremely viable filler and low cost way of AOE healing. Having to plan the use of this ability more doesn't make it completely useless; it just means that you could have been healing a single target for more during that time. Many instant cast healing abilities from other classes have had a similar treatment in the patch notes and it's no surprise that Blizzard want to make healing more defined and forward planned rather than sporadic and wasteful. Remember that Rejuvenation still remains as an instant cast past these notes, and that that along with improved Mushrooms we will still have the effective healing we currently do in my opinion.
Swiftmend remains in the game thankfully and has avoided the chop, however it seems that the glyph that added efflorescence to Wild Mushroom's Bloom ability was seen as a success to the point that in 6.0 it will be the only way to cause the efflorescence effect and to spawn it at the mushrooms location. This adds more flexibility and positioning for this powerful ground ability, something that definitely makes for a more powerful and effective utility rather than accidently causing the effect on one player at range when all you wanted was to heal them up quickly.
Tranquillity doesn't avoid the list of changes either, with Blizzard mentioning something about the spell being confusing to players (I would love to meet these confused players), regardless the spell is changing to heal every party and raid member within range every 2 seconds for 8 seconds total. It no longer places a periodic effects on each target either, weakening one of the strongest healing cool downs in the game. The total healing it generates should be the same as it currently is on live in raids, but to be honest I'm not sure how that could be the case, but I'm sure time will tell. The spell was never confusing to begin with, and saying it will be just as strong without its periodic attribute is hard to imagine, even with it now definitely hitting EVERY player nearby.
Talent changes
The level 90 talents seem to be getting some changes, but more interestingly out of all of them is one of my favourite abilities; 'Natures Vigil', essentially a power button you would usually press in dire situations as one of your direct healing cool downs. Natures Vigil currently in game amplifies healing caused by healing spells by 25% and all single target damage spells to heal a friendly target for 25% of the damage dealt. In 6.0 Blizzard are planning to change the healing caused to only 16% but actually buff the damage to healing portion to 35%. This change is somewhat of a nerf to the part of the ability that I liked yet it still seems like one of the most viable of the tier of talents, with the damage to healing buff being useful in some situations, but perhaps not for general use in raiding. Many of the talent choices are options to add hybridity to the specialisation you are playing, something that doesn't particularly make me too excited. Even though the plan was to add more flexible utilitarian options, I think that they end up just never being used. In my opinion, if I wanted flexibility with these talents they could tailor the way certain abilities heal, not add benefits to damage dealing abilities that I find a fairly wasteful use of mana that could be used to heal directly in encounters.
Changes are one thing, and no matter how you look at it all classes are getting cuts that may or may not make sense at this time, but we also got some information on additions to each class that make things more positive to imagine. The level 100 Talent ability choices were unveiled with some interesting functionality. The way we see talents in WoD will be dependent on specialisation within the class rather than see the same abilities and have to read tooltips on those abilities to see what they do for your spec. So below are the NEW talent options listed with notes dependant on spec.
Talents-
Left
Sunfall (Balance) – Entering Solar Eclipse will transform your Starfall spell into Sunfall and reset its cool down.
Lunar Inspiration (Feral) – Moonfire is now usable while in Cat Form, generates 1 combo point, deals damage based on attack power, and costs 30 energy.
Guardian of Elune (Guardian) – Savage Defence now lasts 4 sec, and increases your chance to dodge by 100%.
Moment of Clarity (Restoration) – Omen of Clarity now lasts 5 sec, instead of 1 cast.
Middle
Insect Swarm (Balance) – Swarm the target enemy with insects which deal XXXX Nature damage every 3 sec for 15 sec. Each time that it deals damage, it also generates 5 Lunar or Solar energy, whichever is more beneficial to you. May only be cast while not in an Eclipse. 2,688 Mana, 40 yd range, 1.5 sec cast
Bloody Thrash (Feral) – Thrash now also applies the Rake bleed effect to all damaged enemies and awards 1 combo point if it strikes your current combo target.
Pulverize (Guardian) – A devastating blow that consumes 3 stacks of Lacerate on the target to deal 500% weapon damage, generate 30 Rage, and reduce damage taken by 20% for 10 sec. Melee Range, Instant, Requires Bear Form
Germination (Restoration) – You can apply two Rejuvenations to the same target.
Right
Savagery (Feral) – Savage Roar is now passive.
Bristling Fur (Guardian) – You bristle your fur, reducing all damage taken by 50% for 3 sec. Instant, 1 min cool down
Rampant Growth (Restoration) – Swiftmend now consumes your own Regrowth or Rejuvenation, but has no cool down.
The new talent options from a healing perspective are very interesting and will be extremely exciting to test when we gain access to beta testing later in the process of development. For now when I look at prospective choices, I really like the idea of 'Germination' and its application of two Rejuvenation's on the same target, I remember how in Wrath of The Lich King and to some extent beyond that Druids would 'roll' rejuvenation on as many targets as possible and with changes to Wild Growth and other Hot's it seems like this will likely be a viable and very powerful option once again, especially with Genesis being used in conjunction. The other choices; Rampant Growth and Moment of Clarity are nice, Moment of Clarity seems the weakest link of the three for general purpose encounters, however Rampant Growth offers an interesting and possibly equally powerful way of healing as Germination, with the removal of the cool down being extremely strong.
It remains to see how these talents will change and what will remain throughout the testing processes before us, but I can only comment on what's written before us on paper, which so far looks fairly promising for the playstyle of a resto druid, yet cannot be hidden that many of the changes feel like they have removed more than they have added to the class in all. As any of these changes alter throughout the Alpha and Beta process, you can be sure to stop by WoW.Stratics to see updates and opinions on all aspects of the changing World of Warcraft we play towards Warlords of Draenor.