Hello Summoners!
Raise your Dongers everyone the legendary Heimerdinger is getting a new skin! Riot has not released the exact date on the skins release besides saying it's going to be during patch 4.11. For now though you can test out the skin on the PBE.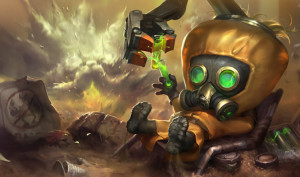 The Dongers skin is going to sell for a mighty fine price of 975 RP, and looking at the skin it is well worth the pay. Riot looks like they have taken their time to make an amazing new skin that any Donger fan themselves should want.
Features 
There are a lot of new features that are put into this skin ranging from the weapons to the skin itself. One of the main things that I really like is the new look that the Dongers turrets are getting. The green ooze just looks 
amazing and gives the turrets a toxic look that goes very well with the hazmat suit. Heimerdinger's rockets also received a new skin of a yellow scheme with black stripes giving it that very cautious look and making you want to stay out of its range. Riot has not forgotten the notorious claw that pops out of his head. What they decided to do with his claw is have the top of his hazmat suit open up to release his terrifying claw.
Overall I think Riot did a very nice job on Heimerdinger's new skin, and blended everything in very nicely. Tell me what you think of the new Hazmat Heimerdinger skin!
Don't forget to follow us on Twitter and like are Facebook for updates on the most recent League of Legend news!